Oyerepa FM/TV have a particular program called Oyerepa Afutuo and this show is hosted by Aunte Naa, a particular video sighted by Mdk Banahene on the Instagram page of Vimbuzzgh captures a hilarious moment on the Oyerepa Afutuo show which featured two lovers who are having some misunderstanding in their relationship.
From the look of things, the man who is a member of the Church of Pentecost, had lost his wife and decided to move on in life by going in for another lady, the lady speaking on the program said the man had told him earlier that, in their church they don't fornicate (meaning they will not have 'sex' until they are married).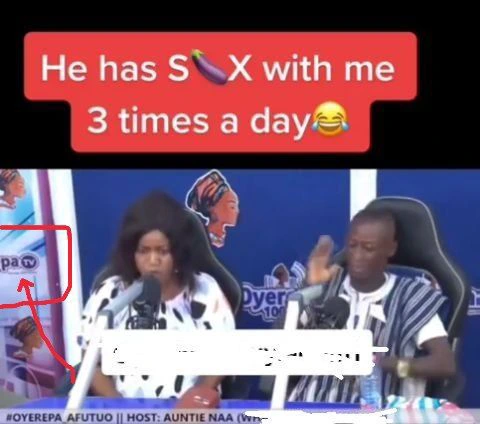 But later on, he came back pleading to her that she should allow him to do the thing because it's been a long time his wife died and for that matter, he is really suffering down there.
According to her, the man has slept at her place for two weeks and he has been having 'sex' with her 3 times everyday.
Nobody knows what triggered her to expose the man on the live show but according to the lady, the man love 'sex' too much. The man couldn't utter a single word, he was just sitting there shaking his head.